About EcoDepot
Offering Tree Mats, Tree Shelters, Coir Logs, Coir Matting, Soil Lift 1000 and more!
EcoDepot is a renewable resource-based company based out of Baltimore, MD. We offer innovative earth-friendly and biodegradable products to the horticultural, landscaping and ready mix concrete industries. We have taken the knowledge gained from decade's worth of experience in field ecology, stream restoration, erosion & sediment control and NPDES consulting to improve on current methods and products as well as to create new solutions for various aspects of these industries.
EcoDepot began in 2003 as an answer to the question "Why are the ecological restoration and associated industries still using the same products that have been in place for decades?" There had been a lack of introduction of innovative, earth-friendly products for use in reforestation, stream restoration, wetland mitigation and similar type projects. So after much research, EcoDepot introduced products such as:
BioBarkTM – Biodegradable Tree Shelters
TreeMatsTM – Biodegradable Coconut Fiber Mat
EcoMattingTM – Biodegradable Coir Matting
EZ LogsTM – Biodegradable Coir Logs
Soil Lift 1000—for encapsulated soil lifts
The majority of these products are produced from coconut fiber or "coir" and are 100% biodegradable and and all natural. They are also a great alternative to their plastic counterparts and are competitively priced as well. We are now working with engineering firms, contractors and local & regional municipalities to introduce our products and explain the benefits of using biodegradable products on applicable projects. Please contact us with any questions or if an on-site presentation would be beneficial to your group.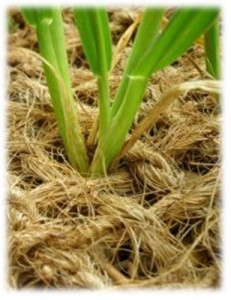 pH issues in the concrete industry have been an issue for decades and have recently come to the forefront of the environmental movement as NPDES compliance is being closely monitored by local, state and federal authorities. EcoDepot was initially contacted early on by a local concrete producer to assist them in controlling the high pH water produced on-site [typically ranging from 10.0 – 12.0]. In order to legally discharge this water, the pH needs to be within the NPDES compliance range [typically 6.0 – 8.5]. EcoDepot developed the patented pH WatchDogTM water treatment system which monitors pH levels on-site, automatically neutralizes the high pH using a non-hazardous chemical [Sodium Bisulfate] and is roughly 1/3 the cost of conventional treatment systems. The pH WatchDogTM is clearly on the forefront of pH control and is in use at hundreds of ready mix concrete sites across the United States. Please contact us with any questions or if an on-site presentation would be beneficial to your group.
EcoDepot Warranty
EcoDepot is proud of its tradition of offering innovative products all designed and built with an emphasis on the high levels of quality and reliability that we know you expect of us. We believe our warranty policy should also reflect our confidence in the quality of our products. The following is a general summary of our warranty offering:
Basic Product Warranty
Unless otherwise specified, all EcoDepot products carry a warranty that they will comply with their published specifications and be free from defects in material and workmanship for a period of one year from date of original shipment . At our option, EcoDepot will replace, repair, or credit any item which does not comply with this warranty.